J
ust got back from the launching of Dimensions, at The Palace (Sheraton Hotel) thanks to Astro, Maxis and Shaz for the opportunity. Though I was late, I don't think I missed out much on the event. If you're wondering what Dimensions is about, well...

Dimensions is an interactive adventure filmed entirely on location in and around Kuala Lumpur. Fast-paced and intense, this 11-episode mobile series and sci-fi thriller reinvents the myths and legends of Malaysia, and lures audiences from the streets of KL into the 130 million-year-old rainforest that surrounds and dissects it, amongst ancient spirits of animist tales
Note: Dimensions can be viewed on mobile screens by Maxis and Hotlink subscribers,
and also viewed on its website by all
http://www.dimensions.com.my/
Here's some sample pictures I've gotten from Astro-Maxis, some characters you'd be expecting in the shows online...


For more detail check out the
official website
...
Alright, back to the event...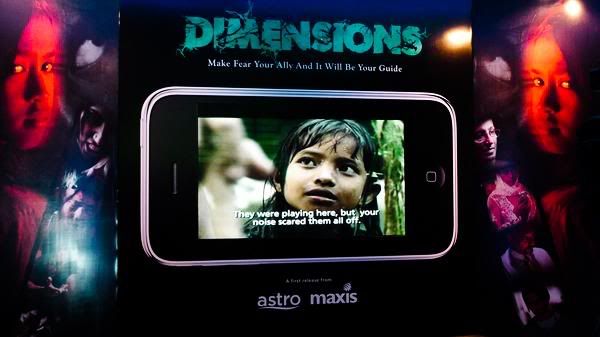 The launching of Dimensions kicked off with a premier screening
of Dimensions Episode 1
(credits to
JoshuaOng
for this picture)
After that was the lucky draw session where there were 2 IPhone 3GS
to give away to two lucky people. And who were these lucky people?
The guys with the Maxis bags:
Xiang
(left) and
Dylan
(right)
[Left] Xiang and host from Unseen TV
[Right] Xiang and
JasonOng
A group picture...
Kning,
Zues
,
Jess
, Shaz,
ChrisTock
, Azhan, Xiang,
Alex
Bryan
, Jason, Flora, and Kristine
Shaz with the winners
ze new owners of IPhone 3GS
(I hate both of 'em now)
Look awesome no?
See the cheeky fella's smile...
Alex showing killer look, in despise of the owner...
best thing was Alex and I were just 1 or 2 number away from
the lucky draw winning number... WTF
Not only that.. twice that I nearly win that...
1st Winning number: 0076




2nd Winning number: 0047



What's my number?


0074!
Damnit, you tell me.. sad or not?
*sigh*
Well folks that's all from the Dimensions Launching...
I'm very disappointed, hence shall go to one corner and emo away now..
LOL kidding ya...