Met up with my friends at MidValley on Tuesday, and I was introduced to a new friend. Her name's Chien Yi (I think that's how it is spelt). First look, I think she's gonna be a quiet one (like those of the goodie-good type) but turns out, she's heck lot of fun, and she's like one of us.
Well, according to the rest, she's an ex-APIITian who eventually left the college (good choice) to try out new environment (lame excuse ok?!), so that explains why I'd never seen her in person before. I only enrolled into APIIT (to be more exact UCTI) for degree Level 1.

After meeting up, we collected our movie tickets for Knowing (a review on that later) and head straight for lunch, at Chilli's Restaurant. Had lotsa chat and laughs there. Could have sworn that Miss Chien Yi was tearing with laughter there.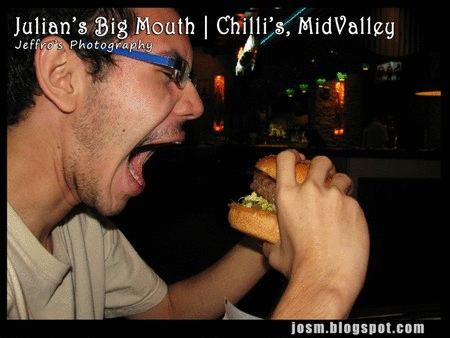 This is the amazing Julian
*grins*
He proved to us, that his mouth was big enough
to take a BIG bite out of the OldTimer

He can scare the sh*t out of you!
Was there from morning till almost evening, with crazy crappy talks and wild imaginations to do us nothing but endless laughter =P Well seeing those pictures, somewhat I think you'll know why.. =)